K-Mornings David & Tony wanna know…..How's Your Grill?
If its anything like theirs, then chances are it's time to replace that old, warn down, good for nothing, piece of crap grill with something BRAND NEW!!
Andres Electronic Experts are giving you the chance to score a BRAND NEW Napoleon Rogue 365 BBQ worth over 500 bucks!
Here's how YOU can win! Head over to the K96.3 Facebook Page (CLICK HERE) and find David & Tonys GRUNGY Grill Post! Then, take a picture of your not so hot, grungy grill and post it in the comments section along with your plea as to why you need a new grill!
K-Mornings David & Tony will then select the wooooorst grill of the bunch and that person will walk away with that new BBQ!

About The Grill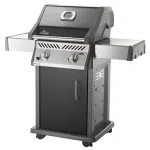 Napoleon's Rogue® 365 Gas Grill is perfect for a seasoned griller who needs a quality grill that takes up the space of something a little more portable. It even has the price tag to match. Grill different by going Rogue®. Two main burners on this compact grill provide perfect heat for the 460 square inches of grilling area. This means you can still grill for a crowd and make your (sear) mark with stunning culinary creations. You'll know it's a Napoleon with the iconic WAVE™ cooking grids for those distinctive sear marks. The dual level sear plates instantly vaporize any grease that falls from your food, creating flavor, not flare-ups. This grill has a stylish and durable black porcelain enamel lid and single panel door. With this new design, you will be grilling faster; assembly time is cut in half. The cabinet itself provides integrated storage for propane and grilling tools. The Rogue® fits itself into your life and lifestyle.